CMS 1500 InstaGuide -
Now Available!

This guide was created for healthcare practitioners and suppliers to save time and assure compliace. It provides accurate and informative instructions to complete the new 1500 health insurance claim form. You can rest assured knowing you are completing a clean claim which will result in fewer claim denials and rejections.

This handy 62 page guide contains:

This guide is available on an Account-basis - for a one-time payment of only $39.95 everyone on your account can read, review, and refer to this in-depth guide at anytime.


To purchase, Subscribe to Find-A-Code today and choose the CMS-1500 InstaGuide add-on.
Or, to order a printed copy from the publisher, go to InstaCode Institute to order your CMS 1500 Claim Form Guide.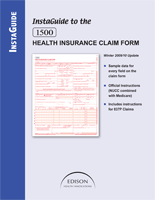 View a sample PDF file which contains:
Title page and Table of Contents (p. 1-5)
Sample Claim Instructions (p. 11-13)
Index (p. 62)