New: Medicare Redetermination Filing Date Calculator
June 28, 2012

Find-A-Code has added a new calcualtor to help you determine the Medicare Redetermination Filing dates.

According to section "310.2 - Time Limit for Filing a Request for Redetermination" of the PUB-100 manual 100-04 (chapter 29):
"A party must file a request for redetermination within 120 days of the date of receipt of the notice of initial determination (MSN or RA) with the contractor indicated on the notice of initial determination."


This new Find-A-Code calculator provides you a simple and fast way to determine the date by which you need to file for a request for redetermination.

The new page is located on the Medicare Information home page: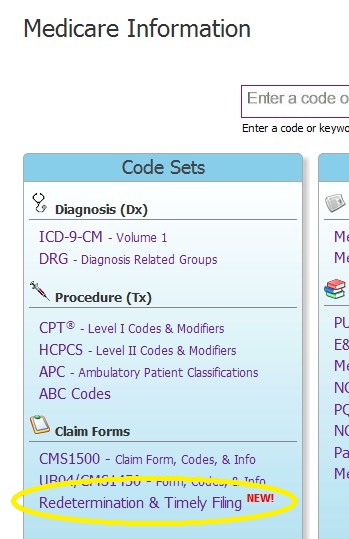 Which will take you to the Medicare Redeterminiation Filing Calculator page:





Simply enter or select the date and click on the "Calculate" button - Easy!

This page also provides information about the date limits for filing Timely Claims (1 year from date of service). And you can read the relevant sections from the PUB 100-04 manuals.

Find-A-Code makes is fast and easy.

Happy coding!

- the Find-A-Code Staff



More Articles in June 2012
Poll
How much will ICD-10-CM impact your coding process?
Articles by Month