Powered by FindACode.com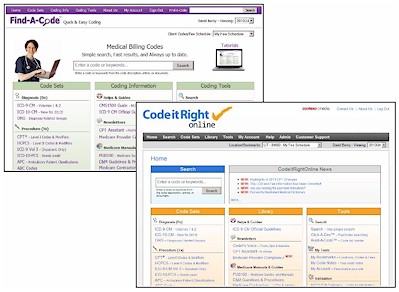 Not only is FindACode.com the most popular medical billing and coding resource on the Internet, but we also power some of the other most popular websites and many other web-based tools and products.

In addition to providing the FindACode.com website with the ever-increasing repository of medical billing and coding data, Find-A-Code by innoviHealth also makes available several data and tool service options that many companies use to power their websites and online products.

Find-A-Code's simple, search-engine-like system of searching for billing codes is easy to use and intuitive. Find-A-Code has many tools to assist medical coders in their efforts to accurately determine proper codes for documenting medical diagnosis and procedures for claim forms, documentation, and notes.

Find-A-Code is pleased to be able to offer our extensive library of data, documents, and tools through our White Label and Data API programs.

This document describes the Find-A-Code White Label Website program and the Find-A-Code Data API program and provides an extensive (yet, probably already out-of-date) list of the data and tools available through these programs.

Find-A-Code White Label Website Program

The White Label Website program is designed to allow your webmasters and website developers to quickly and easily expand the capabilities and features of your website with the extensive library of data, documents and tools included in the Find-A-Code suite of features.

Your white labeled website can be installed either at a domain name (ex. http://CodeItRightOnline.com) or a sub-domain of an existing website (ex. http://ps.ChiroCode.com).

Your White Label Website can also be customized to match your existing website or "skinned" to suit your tastes. Find-A-Code can also create custom web pages for your site and modify (to some extent) the way the coding data is displayed. We can even add your custom or proprietary data to your site and utilize the power of Find-A-Code's search and display systems.

Find-A-Code Data API

Find-A-Code also has a Data API (application programming interface) that your website developers can use to request Find-A-Code data directly from our database. This data can then be integrated into (displayed on) your website or web-enabled application as you choose. (Note: licensing restrictions may apply and a review of the display by the data owner may be required).

The Find-A-Code Data API can be used to:

Perform a Code Search - provide a code look-up tool based on words or code numbers
Perform a Index Search - return a list of codes based on words found in indexes
Produce a lists of codes
Display code information (including hierarchy)
Display code set information
Perform multi-code validations based on NCCI Edits
Create an interactive code builder (drill-down)
Display Medicare information (NCDs, LCDs, Articles, Contractor Info)

The data can be returned in one of these formats: XML, JSON or JSONP. For more information about the API, examples, and to view the API Documentation visit http://api.findacode.com/v1/?help.

If you need additional data via API from Find-A-Code we can enhance the API for you or do some programming to customize the data that is returned.

The Find-A-Code Data API can be combined with the Find-A-Code White Label program to provide your customers both a comprehensive research tool for coding and the "just-in-time" information they need as they interact with your website or web-enabled application.

The management of both White Label Website and Data API users can occur within the White Label Website. If you are using only the Find-A-Code Data API, Find-A-Code will provide a web-based administration portal that may be used to enter and update Customer and User accounts and review usage, fee, and invoice information. API endpoints and sample code are also provided to allow you to request and submit account, user, access, usage and Find-A-Code billing information.

If you will be using both the White Label Website and Data API, Find-A-Code does not charge Data API fees for users who are already being charged for the White Label Website - thus the White Label Website fee includes use of the Data API.

To learn more about the Find-A-Code data services, tool services, APIs and White Label program please Contact Us (or use the information shown below).
contact
innoviHealth Systems, Inc.
62 East 300 North
Spanish Fork, UT 84660
Phone: 801-770-4203 (8-5 Mountain)
Email:




Thank you for choosing Find-A-Code, please Sign In to remove ads.