Medicare Advance Beneficiary Notice of Noncoverage (ABN) Form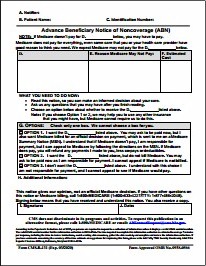 The Advanced Beneficiary Notice of Noncoverage (ABN) is one of the most critical Medicare forms that you can utilize. According to Medicare, it must be issued (or delivered to the patient for their signature) when Medicare does not consider an item or service to be reasonable and necessary according to their standards. Some common situations where an ABN is needed are when the service/supply is:
Considered experimental, investigational, or research only
Not indicated for diagnosis or treatment in a particular case
Exceeds the frequency of services they allow for a specified period for the corresponding diagnosis
The ABN is proof that you have told the patient these services/supplies will not be covered by Medicare. Then, as an informed consumer they can decide whether or not to receive the service/supply as an out-of-pocket expense, or through other insurance if they have it.
When used properly, the provider/supplier will be able to collect their fees from the patient should the provided care/service be considered medically unnecessary by Medicare. If Medicare determines that the care you provided is medically unnecessary and you do not have and ABN on file for that patient, you will have to refund the money that Medicare paid and you will not be able to collect from the patient.
June 2020 Update: The ABN, Form CMS-R-131 form and instructions have been revised. The revised form can be used immediately and becomes mandatory on August 31, 2020. There are quite a few changes to the instructions. CLICK HERE for more details about these changes. It should be noted that the new form has an expiration date of July 30, 2023 at the bottom of the form.
ABN Forms
ABN Instructions, Guidelines and Other Resources
Old ABN Files
Prior to 2017, the ABN showed the date that the form became effective (e.g., 03/11). Since then, they show the expiration date on the ABN (e.g., Exp. 03/2020). The following links list the year that the ABN became effective.
Thank you for choosing Find-A-Code, please Sign In to remove ads.