Medicare Advance Beneficiary Notice of Noncoverage (ABN) Form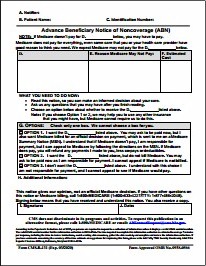 The Advanced Beneficiary Notice of Noncoverage (ABN) is one of the most critical Medicare forms that you can utilize. It is for use with covered services/supplies that might not be covered by Medicare in a specific situation. The ABN is proof that you have told the patient about these services/supplies. As an informed consumer they can then decide whether or not to receive your services as an out-of-pocket expense, or through other insurance if they have it.
If you use it properly, you will be able to collect your fees from the patient should the care that you provided be considered medically unnecessary. If Medicare determines that the care you provided is medically unnecessary and you do not have and ABN on file for that patient, you will have to refund the money that Medicare paid and you will not be able to collect from the patient.
March 2017: The ABN, Form CMS-R-131, and form instructions have been approved by the Office of Management and Budget (OMB) for renewal. While there are no changes to the form itself, providers should take note of the newly incorporated expiration date on the form. With the 2016 PRA submission, a non-substantive change has been made to the ABN. In accordance with Section 504 of the Rehabilitation Act of 1973 (Section 504), the form has been revised to include language informing beneficiaries of their rights to CMS nondiscrimination practices and how to request the ABN in an alternative format if needed. The effective date for use of this ABN form is 6/21/2017.
ABN forms
ABN instructions & guidelines
Old ABN Files