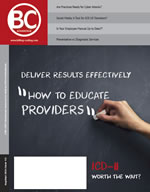 BC Advantage Magazine & CEUs
Billing & Coding - Magazine, Webinars, CEUs, Article Archives
1,534 articles since 2005
Save Time, Save Money and Satisfy Your CEU Requirements
*** PLUS GET 20+ AAPC and AHIMA Approved CEUs each year ***
BC Advantage is an industry magazine and online CEU Center providing low-cost educational resources for medical office professionals. A must-read resource for physicians, practice managers, office managers, billers, coders, consultants and anyone involved in medical documentation, coding, billing and reimbursement.
For just $7/month (with a one-time setup cost of $40) you can enjoy:
One full year of BC Advantage magazine
A searchable database with 1534 articles on medical billing and coding topics, and much more
Related articles show on the Find-A-Code Code Information pages for quick access
Access to over 20 CEUs approved for the following associations:

AAPC
AHCAE
AHIMA

APMBA
ARHCP
HBMA

MAB
MED-C
NHCLA

PAHCOM
PHIA
PMI

PMRNC
POMAA
QPRO


Access to over 20 one-hour webinars, such as:

Stark/AKS - New and Improved? - Sep 15, 2021
Fraud, Healthcare, COVID-19, and the False Claims Act - Sep 1, 2021
Stop the Insanity! Why Healthcare Organizations Need to Take a New Approach to Cybersecurity & Data Privacy Training - Aug 8, 2021
Valuation Considerations in the Era of the New Stark Law and AKS Final Rules - Jul 22, 2021
Healthcare Cybersecurity Awareness Training - Jul 22, 2021
Don't Let a Medicare Revocation End Your Practice - Jun 17, 2021
Waivers and Discounts: What are They and When do They Apply? - May 23, 2021
Expanded Roles and Duties for Medical Assistants during the COVID-19 Era - May 18, 2021
1, 2, 3's of Coding, Billing, & Auditing - May 18, 2021
COVID-19: Workplace Safety, OSHA Updates, and Return to Work Issues - Apr 30, 2021
Have No Fear: Auditing to Benefit Physicians, A Step Towards Proactive Compliance - Mar 29, 2021
Healthcare's Enterprise Cyber Risk Management Imperative - Mar 21, 2021
HIPAA in the Time of COVID-19: Recent Updates and Enforcement Actions - Mar 7, 2021
Big Data & False Claims Act Risk Due to COVID-19 - Feb 23, 2021
HIPAA Business Associate Agreements Under HITECH - Feb 28, 2021
Securing Your Data Analytics Program - Feb 8, 2021
The New AKS and Stark Laws Final Rules - Key Take-Aways - Feb 8, 2021
Why are Security & Governance for Health Data Analytics Vital? - Jan 31, 2021
HIPAA Compliance for Business Associates - Jan 28, 2021
2021 CPT Code and Documentation Changes - CMS & AMA Come Together to Benefit Providers - Jan 17, 2021
Vendor Management in Healthcare: The High Cost of Failing to Triage Your Vendors - Dec 6, 2020
2021 E/M Changes - Nov 22, 2020
HIPAA: A Timely Overview & Update - Nov 2, 2020
How Workplace Communication Mitigates Harassment - Oct 21, 2020
Federal Healthcare Fraud and Abuse Framework - Oct 31, 2020
Search the BC Advantage article database for articles on documentation, coding, billing and reimbursement topics.
Thank you for choosing Find-A-Code, please Sign In to remove ads.