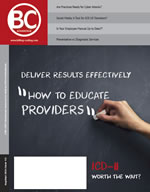 BC Advantage Magazine & CEUs
Billing & Coding - Magazine, Webinars, CEUs, Article Archives
1,409 articles since 2005
Save Time, Save Money and Satisfy Your CEU Requirements
*** PLUS GET 20+ AAPC and AHIMA Approved CEUs each year ***
BC Advantage is an industry magazine and online CEU Center providing low-cost educational resources for medical office professionals. A must-read resource for physicians, practice managers, office managers, billers, coders, consultants and anyone involved in medical documentation, coding, billing and reimbursement.
For just $70/year you can enjoy:
One full year of BC Advantage magazine
A searchable database with 1409 articles on medical billing and coding topics, and much more
Related articles show on the Find-A-Code Code Information pages for quick access
Access to over 20 CEUs approved for the following associations:

AAPC
AHCAE
AHIMA

APMBA
ARHCP
HBMA

MAB
MED-C
NHCLA

PAHCOM
PHIA
PMI

PMRNC
POMAA
QPRO


Access to over 20 one-hour webinars, such as:

Appropriate Use Criteria: What you Need to Know - Jul 31, 2020
Navigating COVID-19 and Preparing for Reentry to the Workplace - Jul 6, 2020
Compliant Coding & Billing For TeleHealth During COVID-19 - Jun 4, 2020
Medical Debt: The Good, The Bad and The Ugly - Jun 11, 2020
Aerosol Transmissible Disease Standard (ATD) using California Standards as a Model - Jun 30, 2020
HHS Final Rules, Patient Access to PHI & Health Apps Intersect - May 31, 2020
Overview of Medical/Reimbursement Policies for 5 Procedures Done by ENT Providers in a Private Office Setting - May 31, 2020
The Biggest Health Care Scams in 2019 and How to Avoid Being A Target in 2020. - Apr 21, 2020
COVID-19 for Healthcare Workers - Apr 13, 2020
Coronavirus and Its Impact on HIPAA, Telecommuting, and Patient Care - Apr 9, 2020
The TeleHealth Revolution to Fight COVID-19 - Apr 6, 2020
Overview of Allergy testing for 2019-2020 - Mar 31, 2020
Making Your Referral Sources Legal - Feb 26, 2020
Telemedicine - Key Legal and Business Issues - Feb 24, 2020
How to Manage the Challenges of MIPS Reporting - Feb 10, 2020
Payor Disputes and Audits: Observations & Strategies - Nov 25, 2019
The New, Personal Audit Threat: Targeted Probe and Educate (TPE) Audits - Nov 30, 2019
Understanding the Healthcare Quality Measurement Data Landscape: - Oct 31, 2019
HIPAA and Health Apps - Sep 30, 2019
Eliminating Kickbacks in Recovery Act (EKRA): Summary and Status - Sep 13, 2019
How to Navigate the Ever-Changing Anti-Harassment Regulations - Aug 19, 2019
Search the BC Advantage article database for articles on documentation, coding, billing and reimbursement topics.
Thank you for choosing Find-A-Code, please Sign In to remove ads.