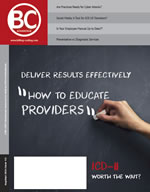 BC Advantage Magazine & CEUs
Billing & Coding - Magazine, Webinars, CEUs, Article Archives
1,694 articles since 2005
Save Time, Save Money and Satisfy Your CEU Requirements
*** PLUS GET 20+ AAPC and AHIMA Approved CEUs each year ***
BC Advantage is an industry magazine and online CEU Center providing low-cost educational resources for medical office professionals. A must-read resource for physicians, practice managers, office managers, billers, coders, consultants and anyone involved in medical documentation, coding, billing and reimbursement.
For just $7/month (with a one-time setup cost of $40) you can enjoy:
One full year of BC Advantage magazine
A searchable database with 1694 articles on medical billing and coding topics, and much more
Related articles show on the Find-A-Code Code Information pages for quick access
Access to over 20 CEUs approved for the following associations:

AAPC
AHCAE
AHIMA

APMBA
ARHCP
HBMA

MAB
MED-C
NHCLA

PAHCOM
PHIA
PMI

PMRNC
POMAA
QPRO


Access to over 20 one-hour webinars, such as:

In the Cath Lab w/ Percutaneous Coronary Interventions 2022 - Nov 9, 2022
Telehealth Tune Up: Learn How to Stay Compliant and Protect Reimbursement in 2022 (and a Look into 2023) Best Practices! - Nov 9, 2022
Medical Coding and Billing Guidance for Asthma Treatment Biologics - Oct 18, 2022
Automatic Dispensing Cabinets, Patient Care, & the Actual Sentence in the RaDonda Vaught Case - Oct 15, 2022
Workplace Civility: Balancing an Employer's Duty to Provide a Harassment-Free Workplace Against Employees' Right to Engage in Concerted Activity - Jul 31, 2022
How to Prevent Employee Snooping and Insider Threats - Jun 4, 2022
DMEPOS - CMS Compliance and Requirements Updates - May 2, 2022
Under Pressure: Reporting Requirements with OCR for Breaches - May 2, 2022
Employment and Labor Law Round-Up with 2022 Forecast and Other HOT Topics - Mar 7, 2022
Hardware Hacking Trends - The Insecurity of Everything - Mar 3, 2022
The No Surprises Act - What You Need to Know - Feb 16, 2022
Recent Developments in Health Information Privacy: HIPAA Right of Access, NPRM, & Information Blocking - Feb 6, 2022
2022 Coding Updates - Jan 17, 2022
AUC – Delayed but not Gone - Jan 11, 2022
Appreciating the Content of a Business Associate Agreement - Dec 12, 2021
Document Retention & Destruction - Dec 12, 2021
Combatting Ransomware in Healthcare - Dec 12, 2021
Search the BC Advantage article database for articles on documentation, coding, billing and reimbursement topics.
Thank you for choosing Find-A-Code, please Sign In to remove ads.