CEUs & Training
FindACode.com is pleased to offer CEUs from Compliant Coding Academy, one of our educational partners, at no extra cost to our Subscribers. Please
Sign In
or
Subscribe Now
to start earning free CEUs today!
Subscribe Now
---
Training and certification is an important part of medical coding and billing. Training and certification can also lead to a better career and higher pay. Most certifications also require some annual or bi-annual continuing education to maintain the certification. Find-A-Code recommends the following resources for training and continuing education:
Jump to:
To list your product or service here please .

NAHCE's educational platform implements administrative and educational processes that encourage different health career professions to share resources and work jointly to deliver patient-centered care and improve healthcare systems. Courses are continuously, collaborated, revised, augmented and internally verified by the piers of each profession. NAHCE has enveloped these core competencies into continuing health education, with emphasis on evidence-based practice, quality improvement approaches, informatics and a shared competency-based curriculum. Access the health industry's most comprehensive communications and Career Resources For Healthcare learning network to begin earning your Electronic (BOC)'s and Certificate of Credentials as a member of an Interdisciplinary Association.
---

CMOM teaches practical administrative skills that lead to improved communication with providers, third-party payers, patients, and business associates. Learn guidelines and examples that will improve decision-making and tactical skills. Graduates of this program will be better prepared to manage risk, motivate employees and improve the financial outlook in a medical office.
Training and audit tools to establish an internal E/M audit program in a medical office. Learn how to analyze medical records to determine whether the documentation supports CPT and medical necessity, and minimize risks associated with outpatient E/M claims.
---
Coding for Physicians
CCO will help new and seasoned medical coders, billers and practice managers with their certification education – first to get certified then to maintain certification.
This is done via articles, videos and practice questions many of which are freely available through out the site. Some are paid products like our popular Coding Certification Review Blitz and CEU On Demand Classes and Physician Based Coding Course. We have a discussion board where aspiring coders can ask their questions about getting certified and one where certified coders can discuss ways they've maintained their CEUs for their respective credential.
Risk Adjustment Coding Course
Become a Certified Risk Adjustment Coder (HCC)
A complete "No-Fluff" course that will teach you the core essentials of Risk Adjustment AND prepare you for the CRC™ Exam.
---
Certificate of ICD-10-CM Coding Proficiency (CICP)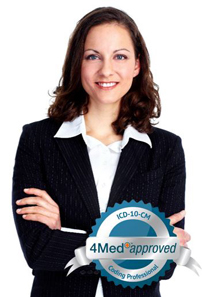 The 4Med CICP program describes the key changes in coding with the implementation of ICD-10-CM Diagnostic Coding. The course enables coders and others responsible for coding to translate their knowledge of ICD-9-CM to the new version of the classification system.
The course is designed as a bridge between the coding sets. The course includes new conventions and chapter specific coding guidelines, with a comprehensive description of new concepts and protocols in the expanded code set. It focuses on chapters that contain significant changes to coding protocols. The course includes all required supplemental materials, including the ICD-10-CM Official Guidelines for Coding and Reporting 2014.
Successful completion of this course awards a Certificate of ICD-10-CM Coding Proficiency which has been reviewed and authorized by the 4Medapproved professional medical and technical advisory boards, in partnership with Libman, a leading provider of online coding education.
The course offers 10 AHIMA CEUs.
Click Here
to Explore Details of this Course
Get 20% off. Apply coupon code FIND20 during check-out.
---
Certificate of ICD-10 Proficiency for Clinical Providers (CIPCP)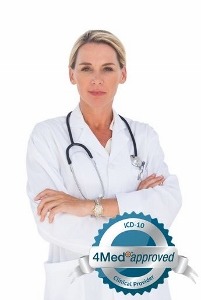 The 4Med+ CIPCP program provides education on ICD-10 that is tailored for physicians and other clinical providers. The course does not require any previous experience with the International Classification of Diseases (ICD) system, though most providers will be somewhat familiar with ICD-9-CM. This course is not designed for professional coders, and it does not focus in depth on the codes themselves. Instead, the course focuses on the information that providers need, especially the documentation required to support proper ICD-10 coding.
The course describes major changes in the transition between ICD-9 and ICD-10. It provides an overview of both ICD-10-CM and ICD-10-PCS. ICD-10-CM is the Clinical Modification version used in both ambulatory and acute-care settings. ICD-10-PCS is the Procedure Coding System used largely in hospitals. The course focuses on documentation requirements, and it includes quick reference guidelines for 16 medical specialties. These specialties are:
Cardiovascular
Dermatology
Endocrinology
Ear, Nose, and Throat
Gastroenterology
General Surgery
Hematology and Oncology
Internal Medicine and Family Practice
Mental Health and Substance Abuse
Nephrology and Urology
Neurology
Obstetrics and Gynecology
Orthopedics
Pediatrics
Pulmonology
The course also includes the entire ICD-10-CM coding set, including the ICD-10-CM Official Guidelines for Coding and Reporting 2014.
Module titles within this course include:
An Introduction to ICD-10 for Clinical Providers
Understanding ICD-10-CM
Understanding ICD-10-PCS
Understanding Root Operation Groups
Successful completion of this course awards a Certificate of ICD-10 Proficiency for Clinical Providers which has been reviewed and authorized by the 4Medapproved professional medical and technical advisory boards, in partnership with Libman Education Inc., a leading provider of online coding education.
Average course length: 2-4 hours
Click Here
to Explore Details of this Course
Get 20% off. Apply coupon code FIND20 during check-out.
---

American Medical Billing Association - Courses and CEUs
Become a CMRS - Certified Medical Reimbursement Specialist or update your CEUs.

Save Time, Save Money and Satisfy Your CEU Requirements
*** PLUS GET 20 AAPC and AHIMA Approved CEUs each year ***
BC Advantage is an industry magazine and online CEU Center providing low-cost educational resources for medical office professionals. A must-read resource for physicians, practice managers, office managers, billers, coders, consultants and anyone involved in medical documentation, coding, billing and reimbursement.
For just $7/month (with a one-time setup cost of $33) you can enjoy:
One full year of BC Advantage magazine
Access to over 20 CEUs and webinars (updated monthly)
A searchable database with over 900 articles on medical billing and coding topics, and much more
CEUs approved for the following associations:

AAPC
AHCAE
AHIMA
APMBA
ARHCP
HBMA
MAB
MED-C
NHCLA
PAHCOM
PAHCS
PHIA
PMI
PMRNC
POMAA
---

Continuing Education Credits
These associations accredit CMS to provide continuing education credits:
Read our ACCME IACET Accreditation Statements [PDF, 438KB] .
Association Credit
Many organizations offer credit for our Calls & Webcasts and Web-Based Training courses.
More Ways to Earn Credit
CMS offers additional ways to earn continuing education credit.
The weekly MLN Connects newsletter gives updates on MLN continuing education credit opportunities and Medicare program information.
Associations Offering Credit for MLN Events & Training
Many organizations offer CE credit. If your organization is not listed, ask if they will offer credit. They may have their information added to our list by contacting us.
---
Enjoy free online CE courses from Nurse.com. We partner with industry-leading organizations to offer the Nurse.com community courses FREE of charge. You also may select other media options, such as audio, video and print, yet these mediums may be priced differently. Partner and accreditation information is detailed within the online course content.
---

16.5 CEUs - FREE, Online CEU Opportunities for May, 2018
Both Live & On-Demand - Most pre-approved for AAPC (®) and/or
AHIMA (®) CEUs.
Visit the HITNOTS website for details HERE
101 Ambulatory Medical Records - Now Available for Everyone
See HITNOTS.com for details
Review our Free Body System Quizzes :
Click here for more information
---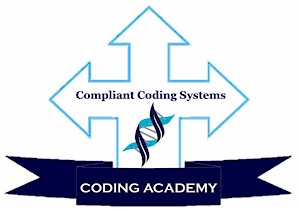 Free CEU's for Find-A-Code Professional and Facility Subscribers.
FindACode.com is pleased to offer CEUs from Compliant Coding Academy, one of our educational partners, at no extra cost to our Subscribers. Click the "Go To Compliant Coding Academy CEUs" button below to open a new tab and begin earning CEU credits today!

Go To Compliant Coding Academy CEUs
In addition Compliant Coding Academy offers 2 new CEU presentations each week* and a program of one year of access for just $19.99. That is 104 CEU opportunities each year for less than $20. Compliant Coding Systems is an AAPC Approved CEU Vendor. AHIMA Members, see page 12 of the CCHIIM Re Certification Guide for information on the acceptance of CEUs from other organizations. This may be accessed here.
Compliant Coding Academy also offers industry leading courses in such areas as Inpatient Coding, Clinical Documentation Improvement, Risk Adjustment, and more that often carry CEU value and other terrific benefits. Visit the industry leader in Medical Coding and HIM Training.
*Program begins January 2017 - CEUs available for registration prior to program start
---

Every AAPC certified medical coder and biller is aware that to maintain your hard earned credential you need to obtain your Continuing Education Units (CEUs) every year.
CCO wants to make the process of maintaining your AAPC certification as easy and as low cost as possible with our low cost AAPC Continuing Education Units (CEU) credit courses. Below you will find a listing of all our Continuing Education Units (CEU) online credit online courses.