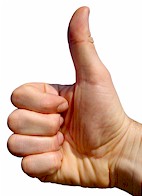 Find-A-Code Testimonials
"Switching to FindACode.com not only saved us money, it turned out to be something our entire staff loved!"
- OhioHealth
"I am new to your website and I am blown away. I have used many websites and I think [a competitor] is going to have competition with your site. I am a contract coder and knowing that your web site is at my finger tips there is nothing that I won't be able to code. Thank you for creating a much needed tool."
- Dena E. Reeves, CCS
"Whoever thought of this site needs a big hug, it's a coders best helping hand."
-Cynthia Jones
"What can I say, Find-A-Code is where it's at! Find-A-Code.com is so user friendly, and the information is just at the touch of my fingers. I feel like I am always up-to-date with the information that I get from their coding alerts, coding tips and the information.
"I love how Find-A-Code makes available articles and resources related to codes. I really like how you can look up codes using a short or long description. It saves so much time from having to pull out all the books. And I also like how I can add some of our own information. I have been doing coding and billing for over 10 years for many different disciplines, and all I can say is: 'FindACode.com, where have you been all my life?'"
- Kathleen McCaffery, Medical Billing and Coding Specialist
"Find-A-Code is something that every doctor's office, medical clinic, surgical center and Hospital should have. The information that is provided with Find-A-Code is very accurate and up-to-date. It helps billing departments to be more efficient in their coding by saving time, especially when there are any questions about codes and their bundling edits.
"Find-A-Code offers a wealth of information. It has everything that we need about any code, and we don't have the costs of all those expensive books and software.
"It is so valuable having all the Code Sets, CPT®, ICD-9 and HCPCS along with RVU's, Medicare Fee Schedules and allowances, along with our notes all together. Now there is only one place to look. I will make sure that FindACode.com will always be available in my clinics and to my staff."
- Deborah Devey, Utah Facility Administrator
Other Customer Comments:
Its been very helpful.
Very user friendly.
The information that is provided has been very helpful for my office.
This has been a very useful tool.
I like the software and its very helpful. Love having the Medicare allowable loaded.
It is a good program and resource.
I use FindACode often in day to day duties and find it very easy to use and very helpful.
User-friendly and very helpful tool!
It receives daily use and proves to be most helpful
I enjoy using FindACode. It is like one stop shopping, everything in one location!
Very helpful tool. Use it everyday!
We love it!
Tell Us Your Story
If you have a story, experience, or comment you would like to share with us please Contact Us.
Thank you for choosing Find-A-Code, please Sign In to remove ads.