by Christine Woolstenhulme, QCC, QMCS, CPC, CMRS
February 1st, 2017
Don't let managed dental plans sneak up on you!
Announcing InstaCode's 2017 Reimbursement Guide for Dental with Medical crosswalks.
We are excited to introduce a truly unique product that will be even more beneficial to the financial health of your practice.
Some of the new features include: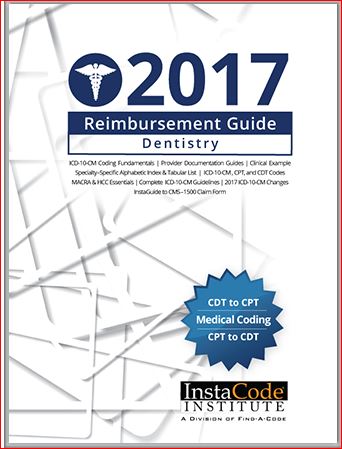 CDT, CPT, ICD-10-CM and HCPCS
CDT to CPT Crosswalks
Official ICD-10-CM Guidelines
ICD-10-CM Coding Fundamentals
Billing Medical for Dental procedures
Procedure & Supply Code Crosswalks
Summary of the 2017 ICD-10-CM changes
Risk adjustment (HCC) and MACRA information
Specialty-Specific Alphabetic Index and Tabular List
CMS-1500 Instaguide (Instructions on using the CMS-1500)
Provider Documentation Guides (PDGs) ensure accurate ICD-10-CM diagnosis coding