Did you Know?
By: Chris Woolstenhulme, QCC, CMCS, CPC, CMRS
Published: May 3rd, 2016
Find-A-Code has ICD-10-CM Official Guidelines!
The use of Guidelines is required under the Health Insurance Portability and Accountability Act (HIPAA) and have been adopted for all healthcare settings. Guidelines are a set of rules developed to accompany and complement the official conventions and instructions provided within the code.

Find-A-Code understands how important the Official Guidelines are. It mandatory is to understand as well as to use complete and accurate documentation, code assignment, and reporting of diagnoses and procedures. In our effort to support healthcare providers, payers and coders we have made it convenient to access current ICD-10-CM Official Guidelines either the complete set or also available on the particular code you are viewing on the code information page.
Be sure to review your current processes with the coding and reporting guidelines to ensure correct coding and billing.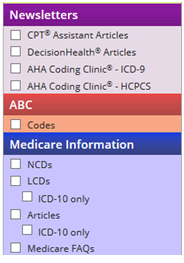 In addition we have many other manuals and guides along with articles and tips such as:
CPT Assist
Decision Health
CMS Manuals - NCCI Edits Manual – PUB-100
Medicare Provider Compliance Newsletters, Medicare Fact Sheets
LCD's NCD's
PUB-100, E&M Guides (Green Pages)
TIP: These are all searchable, select the magnifying glass in the code search box, and check the box next to your desires search option (on the left side of your search box) for more accurate results
###
Article Tags (click on a tag to see related articles)
Publish this Article on your Website, Blog or Newsletter
This article is available for publishing on websites, blogs, and newsletters. The article must be published in its entirety - all links must be active. If you would like to publish this article, please contact us and let us know where you will be publishing it. The easiest way to get the text of the article is to highlight and copy. Or use your browser's "View Source" option to capture the HTML formatted code.
If you would like a specific article written on a medical coding and billing topic, please Contact Us.
Our contact information
Find A Code, LLC
62 East 300 North
Spanish Fork, UT 84660
Phone: 801-770-4203 (9-5 Mountain)
Fax: 801-770-4428
Email: