Home Oxygen Therapy
By: Raquel Shumway
Medicare will cover certain oxygen items/equipment for Home use, provided there is proper documentation showing that they are both reasonable and necessary in accordance with local MAC policies (LCDs). Here are a few of the highlights regarding those items and the requirements as found in Medicare's MLN Home Oxygen Therapy Booklet which also includes additional information.

In order for these items to be covered, Medicare requires that they are:
Eligible for a defined Medicare benefit category
Reasonable and necessary for the diagnosis or treatment of illness or injury or to improve the functioning of a malformed body member
Ordered by providers and furnished by suppliers who are enrolled in the Medicare Program and
Meet all other applicable Medicare statutory and regulatory requirements
To be considered reasonable and necessary these items must meet ALL of the required criteria.
Initial Certifications Tables 1-3
Patient's blood gas study values must meet one of these criteria: (either an arterial blood gas or an oximetry test)
Table 1: Group 1 Criteria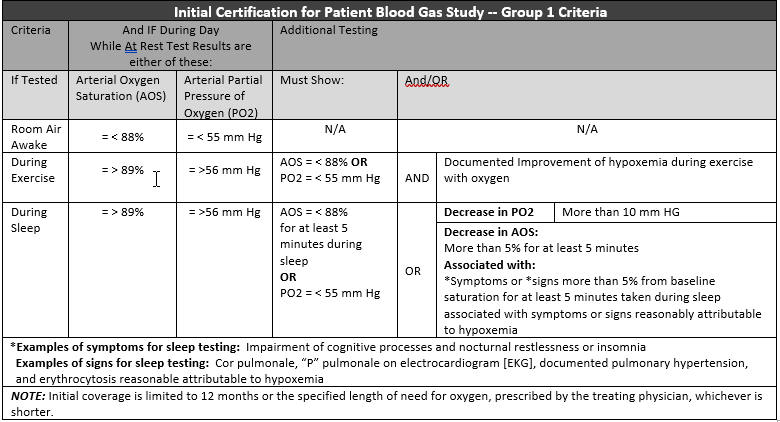 Table 2: Group 2 Criteria
Medicare will deny claim as not reasonable and not necessary if the only qualifying blood gas study is performed during sleep.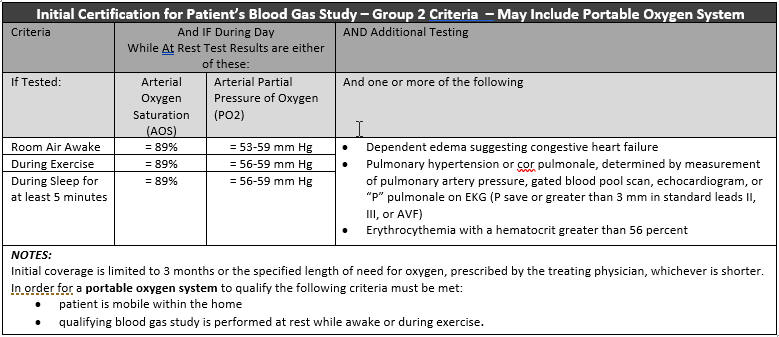 Table 3: Group 3 Criteria:
May be covered when patients are enrolled in a CMS approved clinical trial.

Home Oxygen Therapy also includes specific requirements for providers, and suppliers of DME on the following topics (Click on each link below for further information):
References:
###
Article Tags: (Click on a tag to see related articles.)
Publish this Article on your Website, Blog or Newsletter
This article is available for publishing on websites, blogs, and newsletters. The article must be published in its entirety - all links must be active. If you would like to publish this article, please contact us and let us know where you will be publishing it. The easiest way to get the text of the article is to highlight and copy. Or use your browser's "View Source" option to capture the HTML formatted code.
If you would like a specific article written on a medical coding and billing topic, please Contact Us.
Our contact information:
Find A Code, LLC
62 East 300 North
Spanish Fork, UT 84660
Phone: 801-770-4203 (9-5 Mountain)
Fax: 801-770-4428
Email: