by Raquel Shumway
Jun 14th, 2018
The Certificate of Medical Necessity (CMN) for Oxygen is a required form that helps to document the medical necessity for oxygen therapy. It also documents other coverage criteria for the oxygen use. For payment on a home oxygen claim, the information in the supplier's records or the patient's medical record must be substantiated with the information in the CMN.
Completing this form is considered a service to the patient and any associated fees are included in the fee for service. Therefore, no fee is to be charged for completing a CMN.
According to the MLN Home Oxygen Therapy Booklet, a CMN can be submitted electronically, if:
All privacy, security, and electronic signature rules and regulations published by CMS and the Department of Health and Human Services are followed.
All of the following are identical to what is printed on the back of the hard copy

Questions/wording
Same sequence
Same pagination
Identical instructions/definitions

Question sets are not combined and
Hard copy of document is maintained on file
Requirements for submitting a CMN for Oxygen can be found in the MLN Booklet. This includes the time frames for recertification, blood gas study testing requirements, and physician visit requirements. Criteria that you must meet to furnish oxygen items and equipment for home use is also included for the Initial 36 months, months 37-60 and month 61 and after. See the following page listing for this and other information.
Requirements for Initial submission (page 14)
Requirements for submitting Recertification (page 15)
Oxygen Items and Equipment:

Equipment table (page 19)
Oxygen Contents (page 24)
Maintenance of equipment (page 27)
Relocation and Travel (page 28)
Both the Treating Physician and the Supplier have responsibilities for filling out the CMN. The table below identifies those responsibilities.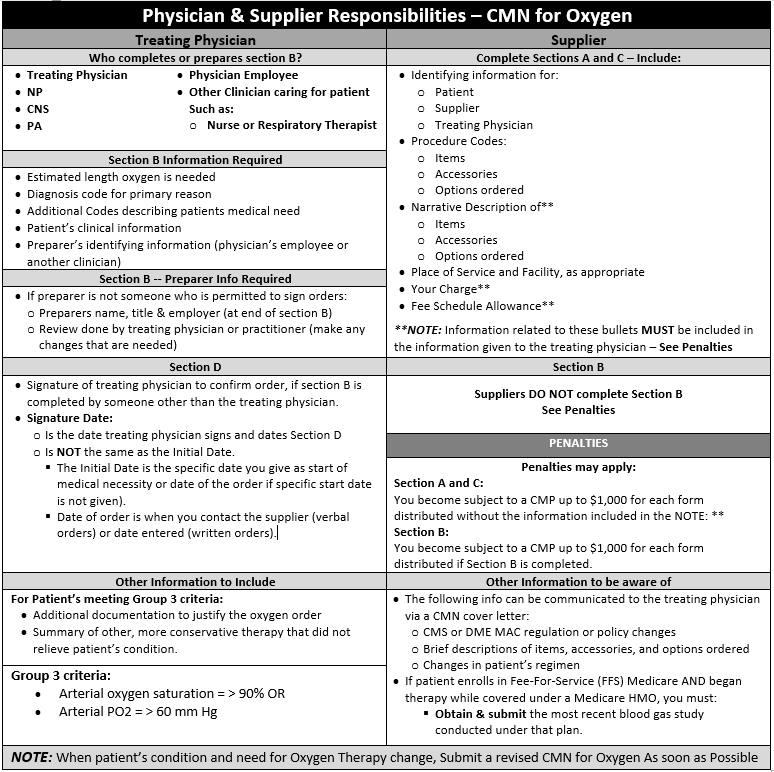 There are several forms and requirements necessary for home oxygen therapy. Please see our article Home Oxygen Therapy for more information and links to other requirements.
---
About Raquel Shumway
Raquel has been an administrative assistant for 21 years. For the last 12 years she has worked editing medical coding books and articles, which has provided experience in understandint medical coding and requirements.