by Christine Woolstenhulme, CPC, CMRS, QCC, QMCS
September 21st, 2020
Be sure and check out this discussion with LaMont Leavitt (CEO of innoviHealth) and Christine Taxin (Adjunct professor at New York University, President of Dental Medical Billing, and Links2Success).
Some of the resources and tools they discuss will help you with your dental coding/billing and education.
Do You Have All the Right Dental Resources Needed to Succeed in Dental Medical Billing and Coding?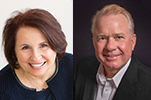 References: