Password Tips
By: Wyn Staheli
Published: July 31st, 2017
Introduction
How secure is your password? Do you use the same password for all, or many of, your online accounts? Do you use your mother's maiden name? Do you always use your pet's name? Do you write down your password near your computer? Do you have a password on your computer?
Passwords are one of the most common security holes for everyone (work and home). You probably lock your front door, lock up your patient records, and even set an alarm, but most people do not abide by the basic rules of password security. Why? Because there are passwords for everything and we all end up struggling with all the passwords we need to remember. If you have a different password for every online account, computer and voicemail, how in the world can you remember them all?
There are some steps you can take right now to help reduce your risk of identity theft, or security breaches. Don't wait - take steps TODAY!
---
HIPAA & Passwords
Regardless of whether or not you are a HIPAA covered entity (these days most healthcare organizations are), your office's Policies and Procedures Manual MUST include a section on passwords and security. Employees need to have password guidelines regarding how to protect both office and patient information included as part of their periodic staff training. Find-A-Code's Complete & Easy HIPAA Compliance offers a HIPAA Compliance Audit which walks you through the steps necessary to identify privacy and security shortcomings. Passwords are part of this audit process. Our HIPAA Compliance book also includes the logs, guidelines, and policy templates you need to get your organization started.
---
Password Do's and Don'ts
Don't do the following:
Use passwords that have personal significance. It makes it easy for someone to guess your password. For example: pet name, mother's maiden name, birthday, spouse or significant other name, school you attended. This is how Sarah Palin's email account was hacked into during her presidential race.
Use the words "password", "passcode", "admin" or anything similar to them.
Tell anyone your password! Sounds simple, but it happens all the time.
Use phone numbers - home, office, mobile phone, etc.
Use the name of a celebrity.
Use a swear word - they are really easy to guess!
Use license plate numbers - yours, friends or relatives.
Use your home or office address or that of your friend (or any of those zip codes).
Make slight modifications to any of the above - like adding the number 1 to the end or just reversing the letters of any of the above don'ts.
Use the same password for all or more than one of your online accounts - especially when you sign up for a new online account. Don't use the same password for your email account as you do for the new account.
Write your password down next to your computer.
There is so much personal information available on the web, that guessing is very easy to do - especially for a disgruntled employee who knows you personally.
Do the following:
---
Password Help
There are many good password manager programs on the market that can help you create and safely maintain unique passwords (e.g., LastPass, Roboform). PC Magazine has a good article about password managers and even rates the different programs for you. CLICK HERE to read their informative article.
References:
###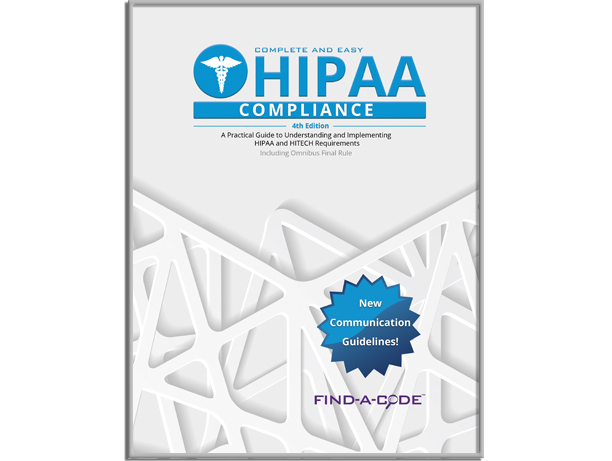 Complete & Easy HIPAA Compliance
A simple and practical guide to implementing HIPAA, HITECH, and Omnibus Final Rule components. Includes the forms and policies and information you need to meet compliance requirements. Plus over 50 customizable forms!

Publish this Article on your Website, Blog or Newsletter
This article is available for publishing on websites, blogs, and newsletters. The article must be published in its entirety - all links must be active. If you would like to publish this article, please contact us and let us know where you will be publishing it. The easiest way to get the text of the article is to highlight and copy. Or use your browser's "View Source" option to capture the HTML formatted code.
If you would like a specific article written on a medical coding and billing topic, please Contact Us.
Our contact information:
Find A Code, LLC
62 East 300 North
Spanish Fork, UT 84660
Phone: 801-770-4203 (9-5 Mountain)
Fax: 801-770-4428
Email: