by Brittney Murdock, QCC, CMCS, CPC
March 4th, 2019
A global period is a period of time starting with a surgical procedure and ending some period of time after the procedure. Many surgeries have a follow-up period during which charges for normal post-operative care are bundled into the global surgery fee.
Global surgery is not restricted to hospital settings. The Global package applies in any setting, including an inpatient hospital, outpatient hospital, Ambulatory Surgical Center (ASC), and physician's office.
The global surgical packages are based on the number of post-operative days. There are three types of global surgical packages.
Locating the global period information is found on the CPT code page under the Additional Information tab.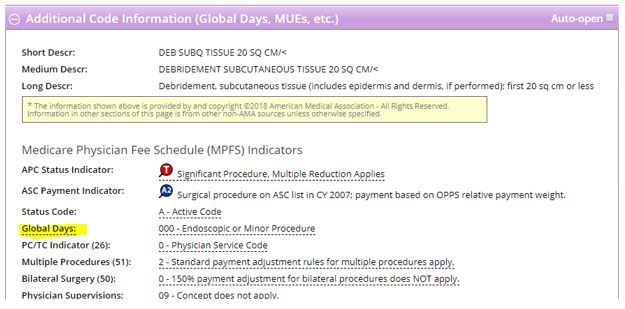 TIP: Remember with Global days to include a 1-day preoperative period.
Example:
Major surgery with a 1-day preoperative period and 90-day postoperative period included in the fee schedule amount.
If the GLOBAL period is 090-Major Surgery, such as CPT Code 28445 you can see the percentage of the global package that is included in the procedure.
| | |
| --- | --- |
| 10% | Percentage for preoperative portion of global package. |
| 69% | Percentage for intraoperative portion of global package, including postoperative work in the hospital. |
| 21% | Percentage for postoperative portion of global package that is provided in the office after discharge from the hospital. |

We also have a GLOBAL days Calculator (Under Tools)