Medicare Physician Fee Schedule Indicators
By: Brittney Murdock, QCC, CMCS, CPC
Published: March 4th, 2019
Many denials can be avoided when you understand how a payer looks at a code. Find-A-Code puts a lot of this information all on one page. Under Additional Code Information on CPT codes, you will find a lot of questions can be answered.
In addition to the global policy, uniform payment policies and claims processing requirements have been established for other surgical issues, including bilateral and multiple surgeries, co-surgeons, and team surgeons. This is all found on the Additional Code Information page.
For example, look at the following CPT code and the indicators telling how this code is used.
28445 - Open treatment of talus fracture, includes internal fixation, when performed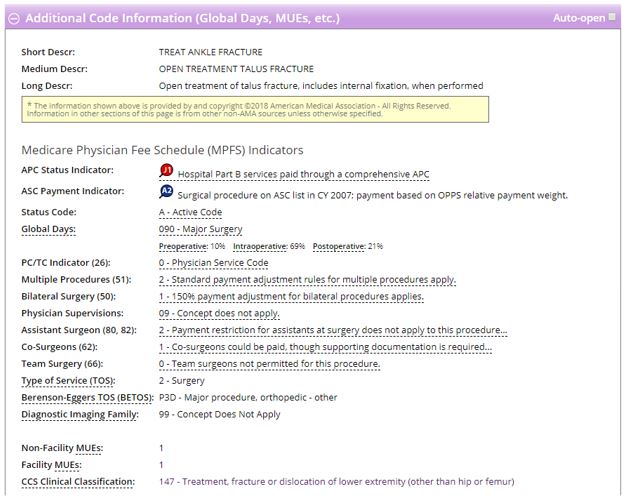 The first indicator is J1. If you hover over the ICON, the description of it will show how it is used and where it can be used.
We can see this is payable under OPPS, Hospital Part B through a comprehensive APC. This also tells us this is a packaged code and everything for this procedure is bundled with the exception of services with OPPS SI=F,G, H, L and U; ambulance services; diagnostic and screening mammography; all preventive services; and certain Part B inpatient services.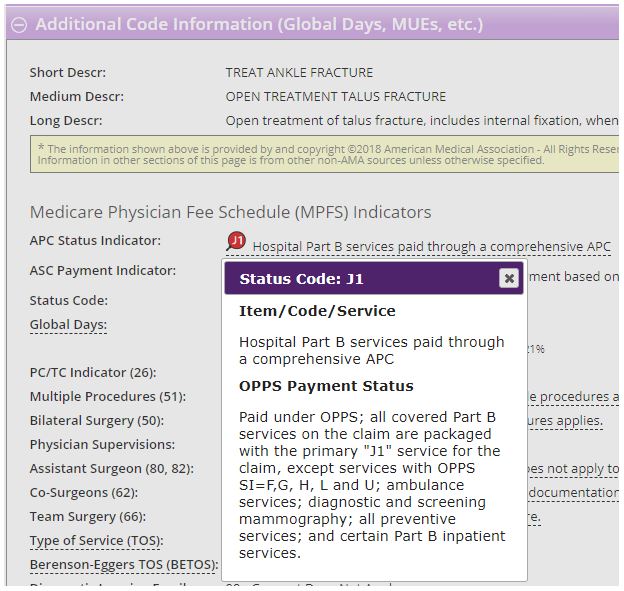 ###
Article Tags: (Click on a tag to see related articles.)
Publish this Article on your Website, Blog or Newsletter
This article is available for publishing on websites, blogs, and newsletters. The article must be published in its entirety - all links must be active. If you would like to publish this article, please contact us and let us know where you will be publishing it. The easiest way to get the text of the article is to highlight and copy. Or use your browser's "View Source" option to capture the HTML formatted code.
If you would like a specific article written on a medical coding and billing topic, please Contact Us.
Our contact information:
Find A Code, LLC
62 East 300 North
Spanish Fork, UT 84660
Phone: 801-770-4203 (9-5 Mountain)
Fax: 801-770-4428
Email: