by Christine Woolstenhulme, QCC, QMCS, CPC, CMRS
April 24th, 2017
Medicare has given the option for participation in the Quality Payment Program offering two tracks you can choose from as well as the option to pick your pace. You can choose to start anytime between January 1 and October 2, 2017:
Advanced Alternative Payment Models (APMs) or
The Merit-based Incentive Payment System (MIPS)
Performance > Send in Performance Data > Feedback > Payment
Merit-based Incentive Payment System (MIPS)
The MIPS is a new program that combines parts of the Physician Quality Reporting System (PQRS), the Value Modifier (Value-based Payment Modifier), and the Medicare Electronic Health Record (EHR) incentive program into one single program in which eligible professionals will be measured on quality, resource use, meaningful use of certified EHR technology, and a new area referred to as clinical practice improvement activity.
Participation in MIPS can earn you a performance-based payment adjustment depending on the data you submit.
Entities that are required to participate bill Medicare more than $30,000 in Part B allowed charges yearly and provide care for more than 100 Medicare patients in a year.
Find-A-Code offers more information and resources on our tools page and on each code page if reported under MIPS.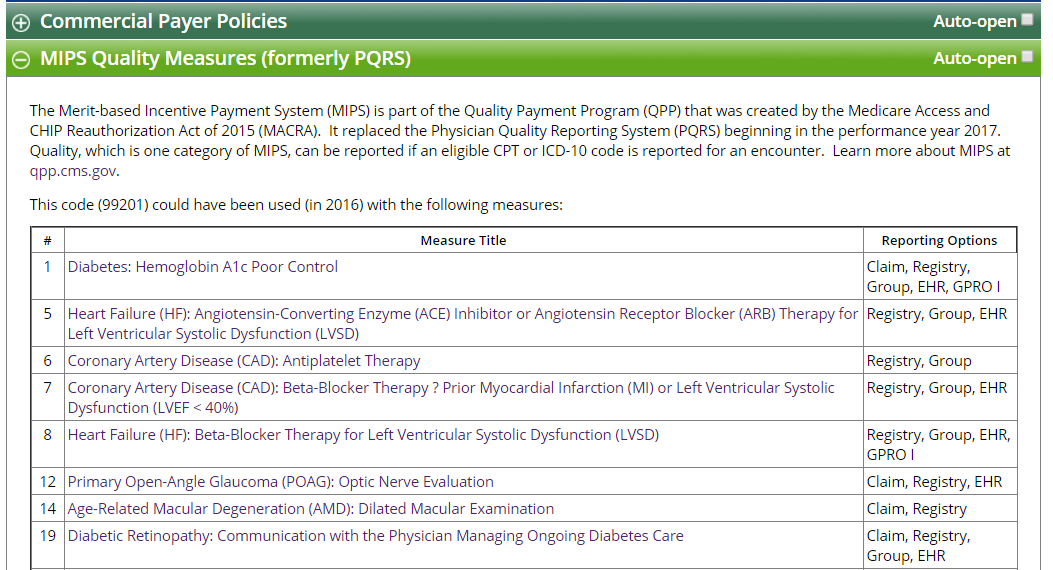 Resources