by Christine Woolstenhulme, QMC QCC CMCS CPC CMRS
Oct 2nd, 2018
For a Lifecare planner, the Future Medical Cost Projections and Past Medical Bill Reviews requires many resources, it is vital to have everything needed for pricing, and code information in one place to save time and frustration. To get started visit the Nurse Life Care Planner Topic page, where we have gathered information used specifically for LifeCare Planners.
Find-A-Code subscribers have access to one system providing a single destination to get pricing information needed for care planning. It is easy to approximate the cost of procedures using our SaaS-based software.
Find-A-Code is a great source of information for pricing, searching procedures, diagnosis codes, drugs, durable medical supplies, rules, guidelines and much more. Use this article as a resource for Find-A-Code's tools and search products to navigate and develop a greater understanding of and easy access to the following: , APCs, NCCI Edits, codes and how they are reported, and fees. Use the search tools to find information on DME, Drugs, pathology, and much more.
Fee information includes:
Medicare fees
UCR pricing
Average Billed Charges to Medicare
Drug Pricing
Durable Medical pricing
Find-A-Code fees include facility and non-facility pricing for procedures, durable medical supplies, drugs, labs, as well as information pertaining to how CPT and ICD-10 codes are reported and used.
Depending on the location, there are different charges and codes associated with patient care. Keep in mind that facility fees are separate from professional fees, which are charges for the physician's work only. The Medicare Advisory Committee stated, "Facility fees can increase the total cost of a service by three to five times compared to the same service provided by an independent physician." The difference being, if the same procedure can be performed in an independent physician's office, it costs much less than if that same physician performs the same procedure in a facility that is owned by a hospital.
Hospital and Facility Fees – Patients are charged for the use of the hospital facility and the equipment, including staff working for the hospital. Hospitals may also charge facility fees for outpatient services. The facility fees payment schedule includes hospital, outpatient surgery center, and skilled nursing facilities or any location that bills for Medicare Part A.
Non-Facility Fees – Non-facility fees include provider charges, outpatient clinics, urgent care centers, and home services provided anywhere except hospital and facilities. These locations would bill Medicare Part B.
UCR Fees – UCR Fees provide usual and customary costs for Non-Medicare patients.
Search Options
Find-A-Code's comprehensive search offers keyword searching and predictive spelling for quick results. Be sure the code or information selection on the left side of the screen is checked n order to get quick search results.
To find a diagnosis or other code you have several search options, use Click-A-Dex, simply look under ICD-10-M codes or use the Comprehensive search (be sure to select only ICD-10-CM on the right side of Comprehensive the search tool).
Understanding how the code sets are grouped
Check out the following steps to locate a Fracture to the right Patella
From here you select where the fracture is located. S82.0 Fracture of patella
Next, select the type of fracture - If this information is not available, select Unspecified or query the provider for more detailed information.
Then chose Right, Left or Unspecified if there is no information available.
The appropriate 7th character is to be added to all codes from category S82. Since this is still in the initial phase of treatment, use A- Initial encounter for closed fracture.
S82.001A - Unspecified fracture of right patella, initial encounter for closed fracture
Comprehensive Search
Now that you have an understanding of how code sets are grouped let's use the Comprehensive search. For example, simply type in the desired description and be sure the CPT or code type is checked to narrow search results to only CPT codes.
TIP: Select "SHOW KEYWORDS & CONTEXT" to view the keywords searched (directly below the search results).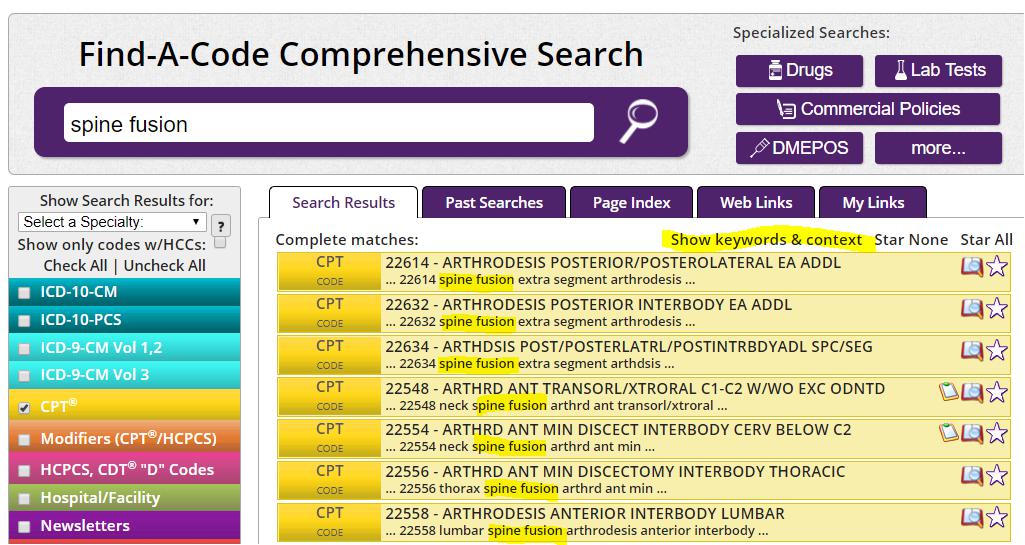 Click-A-Dex Index Searching
TOOLS > Click-a-Dex
Use Click-A-Dex to perform a quick search of a code set, presenting like the index system of a codebook. For example, to look up "Spinal Fusion," select the CPT Index, enter the word "FUSION" then select "SPINE," where you now have the option of selecting "Lateral," "Anterior," "Posterior," or "Arthrodesis" procedures. Select "ANTERIOR," then your options are narrowed down to the exact code: 22558 ARTHRODESIS ANTERIOR INTERBODY LUMBAR.
Browse-A-Code
HOME > Coding Tools > Browse-A-Code
This tool offers a code selection decision tree. Start with the section and navigate through the nearby code ranges to drill down to the exact code.
Durable Medical Product Search
HOME > Code Sets > HCPCS Codes > DMEPOS Product Search (under Coding Tools)
Using the DMEPOS product search makes searching for a product or supply simple with the ability to search Product and HCPCS codes by the manufacturer, product, model, or HCPCS using the "DMEPOS Product Search"
Drugs and Pharmaceuticals Search
TOOLS > WK Drug Database
Use the WK Drug Database to search by drug name, keyword, NDC, or GPI. This unique tool offers information about drugs and pharmaceuticals that can be used to detect, treat, or monitor diseases, as well as assist in medical procedures. Start your search with a keyword or code and click on an index letter to see drugs by name, drill down through the GPI hierarchy, or view Average Wholesale pricing (AWP).
Medical Lab Tests
TOOLS > Medical Lab Tests
Medical Laboratory Test Information also includes Clinical Lab Decision (CLD) rankings. CLD uses a proprietary ranking system that enables healthcare providers to correctly select and order the most relevant tests based on diseases, symptoms, and ICD-10 codes.
Fees
Fees are located on each individual code information page. Simply search the desired code and open the code information page by simply selecting the ENTER button. Once on the code information page, click the green bar labeled "Fees." Fees are calculated by Medicare for specific jurisdictions, depending on the geographic location previously set up in your account. The location can be changed at any time to any other location previously set up in the "ACCOUNT" tab, using the "LOCATION" drop-down at the top of the page. Depending on your subscription, you may also have fees available for UCR, Medicare most billed charges, and OWCP fees. Simply open the Fee Schedules Bar to view these fees.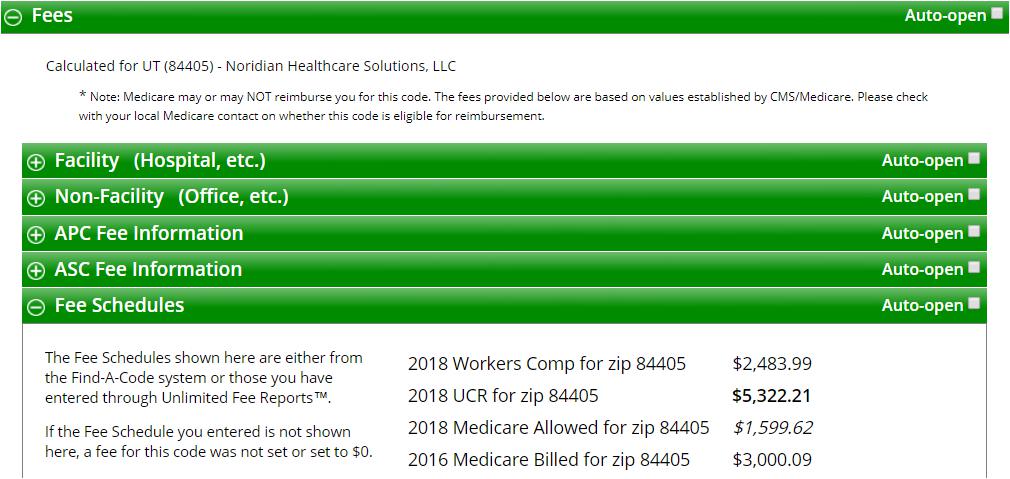 Find-A-Code offers allowable fees for Facility (Hospital), Non-Facility (Office), APC, and ASC. View fees based on participation or non-participation with Medicare, as well as add a percentage to your fee schedule to increase Medicare fees to your fees.
Nurse life care planners often provide usual and customary (UCR) costs in plans that do not include Medicare. UCR fees can be found on each code page under the Fee Schedules tab. For an industry-wide baseline, you can view the physician billed amount with Medicare Services and Charges History.
NCCI Validator
Use the NCCI Validator for facility or non-facility to see if there are edits, errors or warnings when reporting multiple procedure codes that should not be billed together. Understand which codes may be overridden with a CCI-associated modifier and which codes will be paid using a CCI modifier.
View the top modifiers billed to Medicare or all modifiers that have been reported to Medicare and the frequency of use. This information can also be found on the code information page of any CPT or HCPCS codes.
Pricing Tools
ASC Payment Calculator
TOOLS > ASC Payment Calculator
There are several tools commonly used to project pricing and are available to Find-A-Code subscribers. Use the ASC Calculator to assist in projecting fees in the ASC setting.
APC Packager/Pricer
TOOLS > APC Packager/Pricer
One of the most popular tools used for APC is the APC Packager and Pricer, which comes with the hospital add-on tools. Enter all claim information to get payment details for date ranges, based on a specific hospital, patient information, and diagnosis codes.
Pro Fee Calculator
TOOLS > Pro Fee Calculator
Let's look at a spinal procedure for a lumbar fusion using a simple way to price physician charges using the Pro-Fee calculator.
Once in the professional fees calculator enter the desired procedure codes, including modifiers and units if applicable. Select the option of Non-Facility, Facility, or Non-participating. The reimbursement calculator will give you fees based on the geographic location, so be sure to enter the ZIP code where the service is being performed.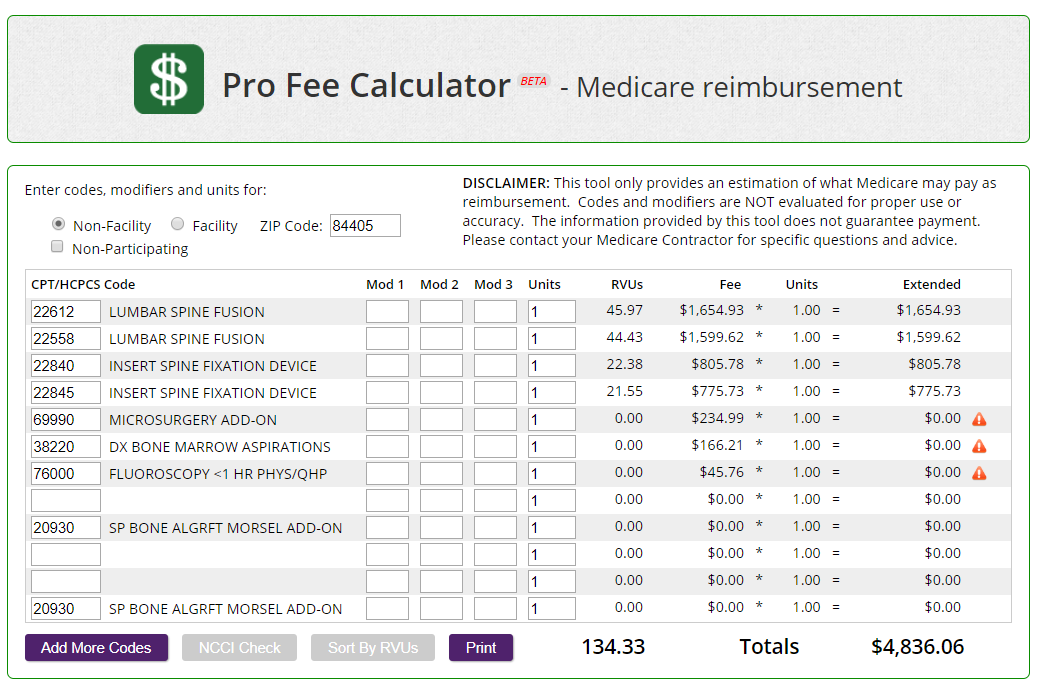 Select the "NCCI Check" to view NCCI edits and vital coding information pertaining to the list of codes, use the "Sort By RVUs" button to sort by RVUs, reporting the highest RVU/pricing first.
The red error flag lets you know there is an editing error and gives the rationale of the error with coding instructions noting if the procedure can be overridden with a CCI-associated modifier. Results are shown below the calculator. Make the needed corrections and recalculate to ensure correct reporting and reimbursement.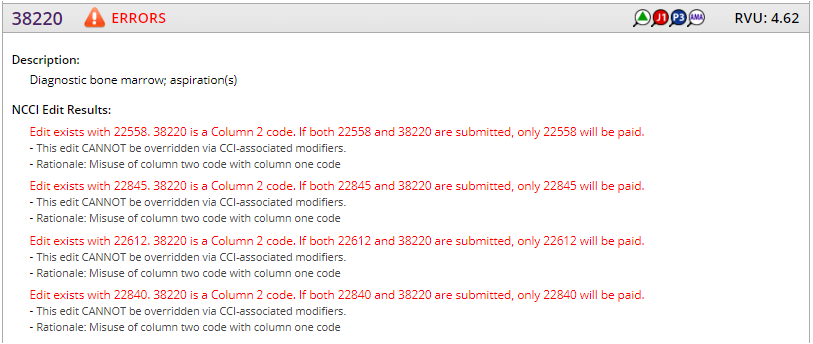 MS-DRG Grouper
Diagnosis-related group (DRG) is a system to classify hospital cases into one of approximately 500 groups, also referred to as DRGs, expected to have similar hospital resource use.
DRG Grouping is the method used to assign a DRG based on the diagnoses made and procedures performed for a particular patient's case. It takes into account the principal diagnosis, any secondary diagnoses that may act as complications, as well as the procedures (either surgical or non-surgical). In some cases, gender and discharge status are also required to group a case into a DRG. Only one DRG is assigned for each case, so Grouping finds all applicable DRGs and assigns the highest severity DRG that applies.
Example:
64 YO Female is admitted with a fracture of her right patella Surgery is to repair the fracture
Diagnosis: S82.001A - Fracture of right Patella
Procedure: 0QQD0ZZ - Open repair of fractured right Patella
Enter the diagnosis code under Principal Diagnosis, using ICD-10-CM codes or ICD-9
The condition was Present on admission (POA), select Y on the drop down. Enter the Procedure code using PCS codes for this grouper.
Enter Discharge date
Admitting Diagnosis
Age
Gender
Discharge status
Select GROUP at the bottom of the grouper, the results will be displayed below with a grouping summary and DRG result with pricing.
This information can all be found on the HELP page (located in the upper right corner of any page), which includes page index site, web links, videos, and tutorials to support your Find-A-Code subscription.
Find-A-Code support staff is available to help you with questions concerning your account and search options. Give us a call at 801-770-4203 or visit our Live Chat for assistance.
Christine Woolstenhulme, QMC, QCC, CMCS, CPC, CMRS
Chris.Woolstenhulme@findacode.com
Find A Code. LLC 62 E 300 N Spanish Fork UT 84660 www.findacode.com
---
About Christine Woolstenhulme, QMC QCC CMCS CPC CMRS
Christine Woolstenhulme, CPC, QCC, CMCS, CMRS, is a Certified coder and Medical Biller currently employed with Find-A-Code. Bringing over 30 years of insight, business knowledge, and innovation to the healthcare industry. Establishing a successful Medical Billing Company from 1994 to 2015, during this time, Christine has had the opportunity to learn all aspects of revenue cycle management while working with independent practitioners and in clinic settings. Christine was a VAR for AltaPoint EHR software sales, along with management positions and medical practice consulting. Understanding the complete patient engagement cycle and developing efficient processes to coordinate teams ensuring best practice standards in healthcare. Working with payers on coding and interpreting ACA policies according to state benchmarks and insurance filings and implementing company procedures and policies to coordinate teams and payer benefits.