by Christine Woolstenhulme, QMC QCC CMCS CPC CMRS
Jan 22nd, 2019
Adherence to ICD-10-CM official guideline's are required under HIPAA and adopted for all healthcare settings. We have made it easy to access guidelines and made them available on the code information page, either on the page you are viewing or view more information by selecting the ICD-10-CM Chapter Section/Guidelines and Notes.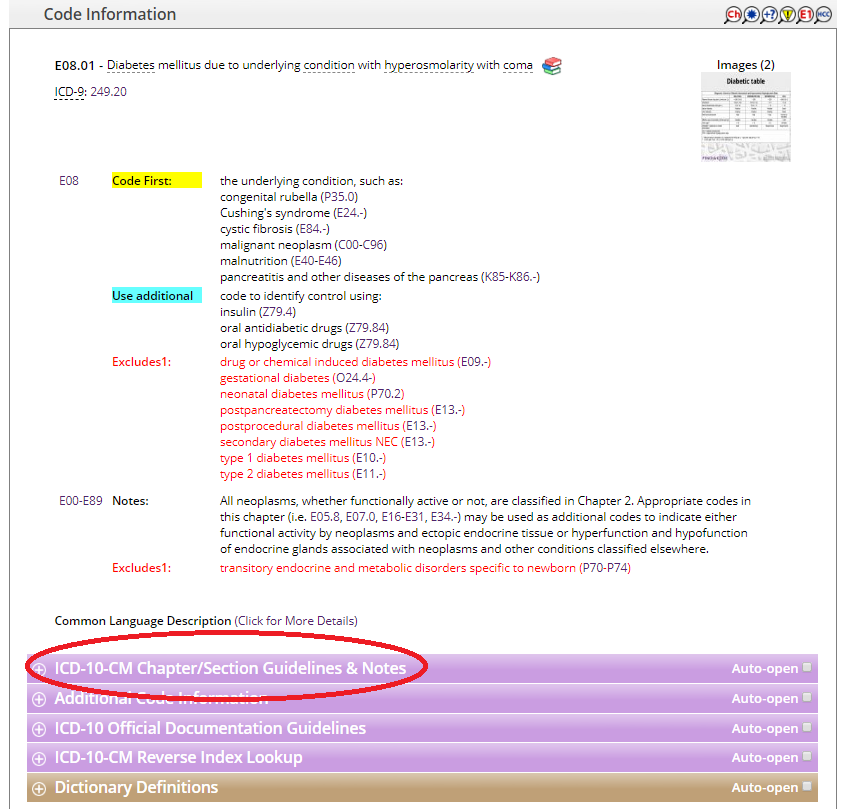 Find Instructional Notations and their meanings such as Includes and Excludes Notes.
Simply click on any Click to view/hide addt'l coding info... to open additional guidelines.

In addition we have truncated sections pertaining to the code you are viewing.
Click on SHOW GUIDELINES on any Chapter or section.


You can also see the Complete Set of ICD-10-CM Official Guidelines, by going to the ICD-10-CM code page under coding information.
---
About Christine Woolstenhulme, QMC QCC CMCS CPC CMRS
Christine Woolstenhulme, CPC, QCC, CMCS, CMRS, is a Certified coder and Medical Biller currently employed with Find-A-Code. Bringing over 30 years of insight, business knowledge, and innovation to the healthcare industry. Establishing a successful Medical Billing Company from 1994 to 2015, during this time, Christine has had the opportunity to learn all aspects of revenue cycle management while working with independent practitioners and in clinic settings. Christine was a VAR for AltaPoint EHR software sales, along with management positions and medical practice consulting. Understanding the complete patient engagement cycle and developing efficient processes to coordinate teams ensuring best practice standards in healthcare. Working with payers on coding and interpreting ACA policies according to state benchmarks and insurance filings and implementing company procedures and policies to coordinate teams and payer benefits.