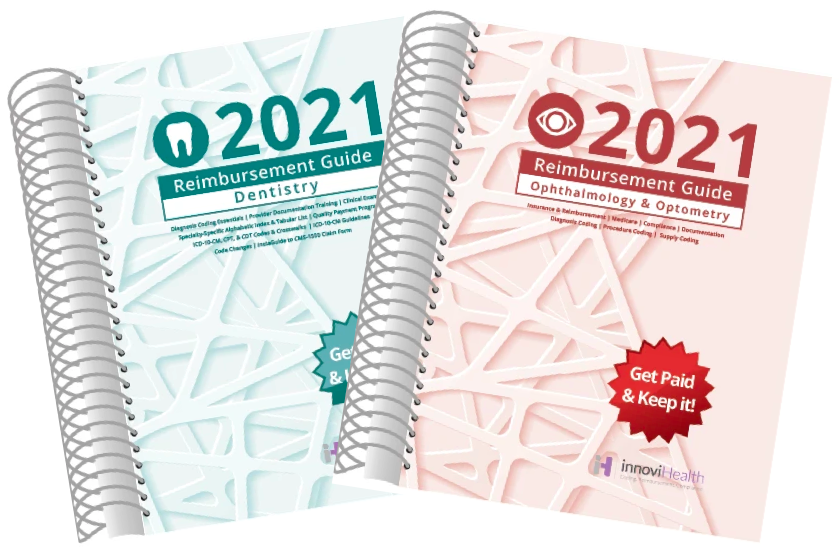 Reimbursement Guides
2020 Edition
Find-A-Code's 2020 specialty specific Reimbursement Guides give you the coding, billing, and documentation support you need to get paid properly and keep it.
Medicare
Procedure & Supply codes
Documentation

Compliance
HCC information
ICD-10-CM codes

When Can You Bill Orthosis Components Separately?
By: Wyn Staheli, Director of Research
Published: July 9th, 2019
It can be confusing to determine if a component or a particular feature is considered an integral part of an orthosis or if you can ask for separate payment. Obviously, the best way to determine that is to follow the specific payer's guidelines. The problem is that many payers don't have really good guidelines or policies which make it easy to find that information so sometimes it comes down to trial and error.
The following tables come from Medicare LCD L33318 and include helpful coverage information about add on components for certain DME.
Table heading explanations:
Base Code: this refers to the main orthosis.
Add on (Payable): this column refers to other components/features which may be added to the base component which may be considered to be separately payable. However, that is not a guarantee of payment. Other rules such as determination of medical necessity also play a role.
Add on (not Payable): this is a non-exclusive list of components or features that may be incorporated into the base orthosis, but are not separately payable.
Table 1: Prefabricated Knee Orthosis
Table 2: Custom Fabricated Knee Orthosis
Base Code

Add on (Payable)

Add on (not Payable)

L1834
L2795
L2397, L2800
L1840
L2385, L2390, L2395, L2397, L2405, L2415, L2425, L2430, L2492, L2755, L2785, L2795
L1844
L2385, L2390, L2395, L2397, L2405, L2492, L2755, L2785

none

L1846
L2385, L2390, L2395, L2397, L2405, L2415, L2492, L2755, L2785, L2795, L2800
none
L1860

none

L2397
Keep in mind that technically, the above tables only apply to specific DME jurisdictions. However, it can provide some guidance and assistance as you are making coding decisions.
As a final reminder, if you know that an item will be not covered separately, be sure that the patient is informed. For Medicare, that means you will need to use an ABN.
References:
###
Article Tags: (Click on a tag to see related articles.)
Publish this Article on your Website, Blog or Newsletter
This article is available for publishing on websites, blogs, and newsletters. The article must be published in its entirety - all links must be active. If you would like to publish this article, please contact us and let us know where you will be publishing it. The easiest way to get the text of the article is to highlight and copy. Or use your browser's "View Source" option to capture the HTML formatted code.
If you would like a specific article written on a medical coding and billing topic, please Contact Us.
Our contact information:
Find A Code, LLC
62 East 300 North
Spanish Fork, UT 84660
Phone: 801-770-4203 (9-5 Mountain)
Fax: 801-770-4428
Email: