Medical Billing and Coding Services
To list your service here please Contact Us.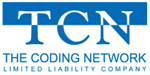 TCNs Remote Medical Coding
The Coding Network has built a team of specialty specific coders with single specialty expertise that cover the entire spectrum of medical and surgical services. All of our more than 350+ coders live and work in the United States of America; absolutely none are offshore. All are credentialed and each is a specialty or subspecialty expert. They are all certified by at least one of the industry's major credentialing organizations (AHIMA, AAPC, RCCB, or the ACMCS). Among our coding team are coders with multiple certifications, coders who are speakers at national and regional specialty conferences, coders who are coding certification trainers, coders who are or have been coding compliance officers, and coders who are authors in coding specialty publications and newsletters. Our coders are the cream of the crop.
In addition to their coding certification, we require our coder candidates to have at least three years of production coding experience in a single specialty, and five years in order to be an auditor. If they meet the certification and experience requirement, they must then pass our proprietary and very demanding specialty specific proficiency test for the specialty in which they have experience. Our proficiency tests are specialty or subspecialty focused sterilized clinical cases and are intentionally much more rigorous than basic credentialing exams. Once a coder passes our proficiency test, they must become an apprentice to the Division Director for that specialty, regardless of how well they did on the exam or their years of experience. 100% of their work is reviewed until we are totally confident that they meet our exacting standards for accuracy. Once in production mode, all coders and auditors are subject to quarterly Q/A reviews and must maintain a 90% minimum accuracy level to continue with The Coding Network.
If you would like to learn more about the TCN Remote Medical Coding service and give it a try, please Contact TCN using the Contact US form here, and let us know that you need more info on the TCN Remote Medical Coding service.
Thank you for choosing Find-A-Code, please Sign In to remove ads.