HIPAA - Health Insurance Portability and Accountability Act
To list your product or service here please Contact Us.
Exclusion Screening

We offer providers an EASY and inexpensive solution to the complex problems associated with screening and verifying that none of your employees, contractors, and vendors have been excluded from participating as providers in any Federal or State healthcare programs.
---
Complete & Easy HIPAA Compliance 4th Edition

Find-A-Code's Complete & Easy HIPAA Compliance - 4th Edition is a simple and practical guide containing all you need to implement and maintain a compliance program for HIPAA, HITECH, and the Omnibus 2013 Final Rule components. This is a must for every covered entity, business associate, or compliance officer. and includes additional guidance for cloud computing and cyber-security.
This book has 50+ customizable forms, including:
HIPAA Compliance Audit - easy to understand audit checklist identifies your level of compliance
Required and updated Notice of Privacy Practices Office Policies and Procedures Template
HITECH Breach Notification Tools - includes Risk Assessment, notification letter templates, and logs
Security Procedures - includes logs to record security incidents Contingency Plan Procedure - includes disaster recovery plan
Forms for Authorizations, Disclosures, and Releases Business Associate Agreement Template - ensure compliance with associates
Logs - Patient Complaint, Disclosure, Employee Violations, Employee Training, etc.
And more!
---
HIPAA Notice of Privacy Practices For Patients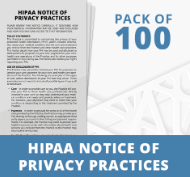 Updated for Omnibus 2013 Final Rule HIPAA Requirements
This convenient brochure makes it easy for offices to meet the new HIPAA 2013 Omnibus Final Rule requirements for a Notice of Privacy Practices.
Every HIPAA covered entity office needs an affordable brochure to give patients. This convenient tri-fold Privacy Notice to Patients explains the use and disclosure of their Protected Health Information.
Size: pack of 100
---
4Med Approved
Learn Every Aspect of HIPAA Compliance Including Recent Regulatory Changes from Omnibus Rule
Certified HIPAA Security Professional (CHSP)The 4Med CHSP Certification provides comprehensive training in HIPAA for business associates, security officers, and medical staff managers. Detailed lessons describe every aspect of HIPAA compliance, including the Privacy and Security rules, regulatory changes brought by the HITECH Act and Omnibus Rule of 2013, requirements for business associates, and more. The program is presented through self-paced online lessons, multimedia reviews, and assessments, along with a final exam. Learn more.
The 4Med online curriculum is designed to meet the needs of busy professionals.
The unique 4Med educational approach incorporates contextual and audio/video content with hands-on practice sessions, helpful review quizzes and exams. All courses are modular, allowing students to stop and start at their own pace and on their own schedule. EARN CEU's!
Certified Program to Understand HIPAA Compliance
4Medtraining's Certified HIPAA Security Professional (CHSP) course delivers hands-on exercises that are designed to teach students about HIPAA compliance and regulations for both Covered Entities (CEs) and Business Associates (BAs).
Some of the module titles included in this 11-module course:
Business Associate Regulations
The HITECH Act and Omnibus Rule of 2013
HIPAA Data Breaches and Penalties
Compliance with Multiple Regulations
Successful completion of this course awards a Certification in HIPAA Security Proficiency which has been reviewed and authorized by the 4Medapproved professional medical and technical advisory boards.
Each CHSP Certification Course license also includes a HIPAA "Business Associate Agreement" downloadable template.
Learn more about the Certified HIPAA Security Professional (CHSP) training course from 4Medapproved: