HIPAA - Health Insurance Portability and Accountability Act
To list your HIPAA product or service here please Contact Us.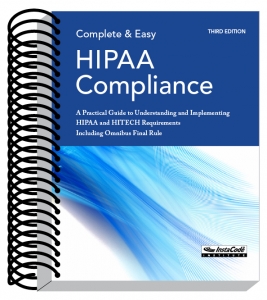 Complete & Easy HIPAA Compliance
Complete & Easy HIPAA Compliance is a simple and practical guide to implementing all HIPAA and HITECH components. Includes all forms and policies to meet compliance requirements. This quick start manual, with 45 essential forms and audio training, answers your number one concern about HIPAA, "Just help me do what I have to do!" InstaCode Institute, has produced this turnkey manual with everything your office needs to comply with all HIPAA rules, and to properly safeguard Protected Health Information (PHI).
---
Learn Every Aspect of HIPAA Compliance Including Recent Regulatory Changes from Omnibus Rule
Certified HIPAA Security Professional (CHSP) The 4Med CHSP Certification provides comprehensive training in HIPAA for business associates, security officers, and medical staff managers. Detailed lessons describe every aspect of HIPAA compliance, including the Privacy and Security rules, regulatory changes brought by the HITECH Act and Omnibus Rule of 2013, requirements for business associates, and more. The program is presented through self-paced online lessons, multimedia reviews, and assessments, along with a final exam. Learn more.
The 4Med online curriculum is designed to meet the needs of busy professionals.
The unique 4Med educational approach incorporates contextual and audio/video content with hands-on practice sessions, helpful review quizzes and exams. All courses are modular, allowing students to stop and start at their own pace and on their own schedule. EARN CEU's!
Certified Program to Understand HIPAA Compliance
4Medtraining's Certified HIPAA Security Professional (CHSP) course delivers hands-on exercises that are designed to teach students about HIPAA compliance and regulations for both Covered Entities (CEs) and Business Associates (BAs).
Some of the module titles included in this 11-module course:
Business Associate Regulations
The HITECH Act and Omnibus Rule of 2013
HIPAA Data Breaches and Penalties
Compliance with Multiple Regulations
Successful completion of this course awards a Certification in HIPAA Security Proficiency which has been reviewed and authorized by the 4Medapproved professional medical and technical advisory boards.
Each CHSP Certification Course license also includes a HIPAA "Business Associate Agreement" downloadable template.
Learn more about the Certified HIPAA Security Professional (CHSP) training course from 4Medapproved:
Thank you for choosing Find-A-Code, please Sign In to remove ads.