Practice Management Tools
To list your product or service here please Contact Us.
The Frank Cohen Group - Advanced Healthcare Analytics
At The Frank Cohen Group, through our extensive research, we regularly produce products that are targeted at specific problems identified by our clients. These include software programs, utilities, workbooks and templates that are user friendly and cost effective.
---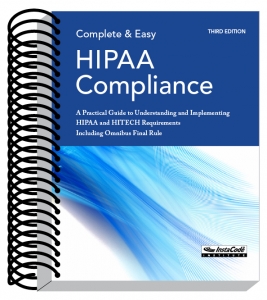 Complete & Easy HIPAA Compliance
Complete & Easy HIPAA Compliance is a simple and practical guide to implementing all HIPAA and HITECH components. Includes all forms and policies to meet compliance requirements. This quick start manual, with 45 essential forms and audio training, answers your number one concern about HIPAA, "Just help me do what I have to do!" InstaCode Institute, has produced this turnkey manual with everything your office needs to comply with all HIPAA rules, and to properly safeguard Protected Health Information (PHI).
Thank you for choosing Find-A-Code, please Sign In to remove ads.