2021 ICD-10-CM and ICD-10-PCS CODING HANDBOOK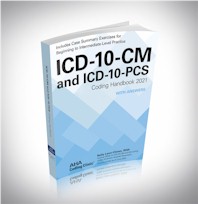 The handbook's format and style of presentation follows that of previous editions inspired by the Faye Brown approach to coding instruction. The handbook is authored by Nelly Leon-Chisen, RHIA, Director of Coding and Classification at the AHA.
Fiscal year 2021 code updates, including new information on COVID-19, vaping-related disorder, history of diabetes mellitus or hypertension, immunodeficiency, cytokine release syndrome,cerebrospinal fluid leak, intracranial hypotension, neonatal cerebral infarction, and "chronic stroke"

Up-to-date guidance on coding signs and symptoms, diseases, disorders, procedures, conditions, complications of care, long-term care, and more

Reflects the Official Coding Guidelines

Over 200 chapter-based and final review exercises

Built-in workbook of case summary exercises

More than 50 four-color illustrations of anatomy, common disorders, and procedures

tci ED Coding & Reimbursement Alert
2,476 articles since 1998
You have ED coding questions, and we deliver money-in-the-bank answers to help you defeat your claim issues and secure optimal reimbursement.

Stay in the know and avoid federal reproach with your subscription to TCI's ED Coding and Reimbursement Alert.

Current newsletters added each month
Fully searchable archives - over 2100 articles
ALL years/issues back to 1998 organized by year and issue
Codes mentioned in articles are linked to Code Information pages
Code Information pages link back to related articles

Access to this feature is available in the following products:

tci ED Coding & Reimbursement Alert +Archives



Archives by year and issue
Thank you for choosing Find-A-Code, please Sign In to remove ads.