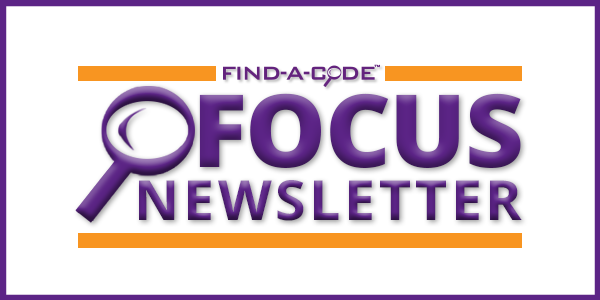 Quarter 3 AHA Coding Clinic (HCPCS) available
November 30, 2012

As part of the AHA Coding Clinic for ICD9 add-on, the articles for Quarter 2 of 2012 are now available.
Highlights from this issue include:
Reporting of Moderate (Conscious) Sedation
Ask the Editor

Anatomical Modifier
Sinogram via an Indwelling Cyst Drain
Arthroscopic Shoulder Surgery, Arthroscopic Subacromial Decompression
High Definition Monitored Transforaminal Endoscopic Discectomy
Sentinel Lymph Node Injection and Biopsy
Labial Laceration
Bone Marrow Aspiration
Transforaminal Epidural Injection
Image Guided Needle Placement
Stress Echocardiogram
Liquid Adhesives

For Your Information

New Category III CPT Codes
Ocular Telescope Prosthesis Insertion
New HCPCS Codes for Drugs and Biologicals
New HCPCS Codes for Certain Drugs and Biologicals
Correct Reporting of Biologicals Used as Implantable Devices
Happy Coding!
-Find-A-Code Staff
More Articles in November 2012
Poll
What is your primary credentialing organization?
Articles by Month