Click-A-Dex ICD-9 v2 Enhancements
February 07, 2011

Find-A-Code has further ehnanced the Click-A-Dex tool for the ICD-9-CM vol 2 index.

Enhancements:

Now you will also see red-flag icons next to codes that are NOT the highest specificity.
Non-highest specificty codes are now linked so you can click and see information about them.
"See Also" index results are now linked to their index results.
Code ranges are now linked.
A green plus icon shows the index entries that may be expanded.

Sample: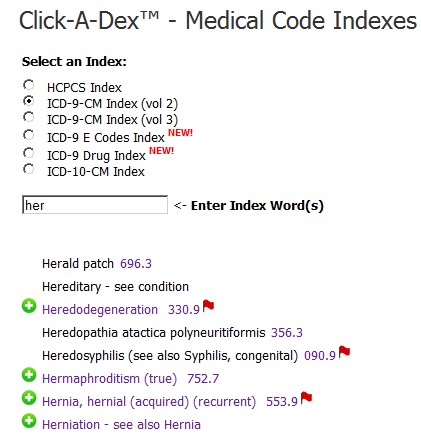 Yet again, another great enhancement to an already amazing online coding tool. More announcements about new code searching and viewing tools are coming soon so stay tuned!
More Articles in February 2011
Poll
We want to continue to add tips to our code information pages. What type of tips would be most beneficial for you to see?
News Articles by Month