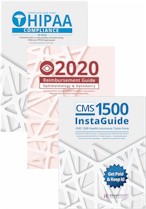 August Super Savings!
Free Digital Book
Subscribe to Find-A-Code before August 30th and receive a Digital Book as a FREE Add-on.
Select from:
Reimbursement Guides (11 to choose from)
Complete & Easy HIPAA Compliance - 4th edition
CMS1500 InstaGuide - 2020 edition
This offer is valid through August, 30 2020. Just click "sign me up" for details!

AHA Coding Clinic
®

for ICD-10-CM and ICD-10-PCS (ICD-9)

3,310 articles since 1984
The official AHA publication for ICD-10-CM and ICD-10-PCS coding guidelines and advice
Current newsletters added each quarter
Full Archives - over 3100 articles
ALL years/issues back to 1984 organized by year and issue
Includes ICD-10-CM/PCS Articles since 2013
Fully searchable through Find-A-Code's Comprehensive Search
Codes mentioned in articles are linked to Code Information pages
Code Information pages link back to related articles
View all the articles associated with any code, right from the code page!

Access to this feature is available in the following products:

AHA's Coding Clinic

®

- ICD-10-CM/PCS +Archives



Earn CEUs
Earn CEUs for reading Coding Clinic editions and submitting a short quiz and small CEU fee. Read the latest issue of Coding Clinc and then select this button to Earn CEUs
Archives by year and issue
Thank you for choosing Find-A-Code, please Sign In to remove ads.